☆ Alt Fashion & Costuming ☆
Karen Fleisch has been designing & styling her world since she was a little girl. Wanting to soak up as much as possible, she managed a bridal shoppe & did promotional modeling while going to school at Traphagen School of Fashion. After a semester at The Paris Fashion Institute, Karen got an assist designing job at a moderate dress house in NYC's Garment Center. It was a brief run however, as a few years later, in 1986, she met Robi Diana and within 6 months created a line of dark romantic rock n roll clothing that went on to change the look of "alternative fashion" from that time forward…
Originally called "Accomplice", they needed to change the name 10years in… "Accomplice" & later "Arkivestry" became known for dressing well known & cutting edge musicians, performers & amazing people of the night.
Under the Arkivestry license & as a freelance designer on her own, Karen has designed creative pattern designs for the iconic company Simplicity Patterns.
Simplicity also hired her to style the photo shoots for their catalog as well as creating the sets in order to see the vision of her sketches come to life.
Through the years, Karen has designed & styled for various production companies to create independent films, webisodes, videos & theater.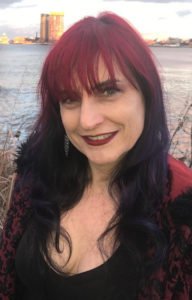 Good job, kid
~ Steven Van Zandt ~
Musician / Actor / Producer / Radio Host
~~~~~~~~~~~~~~~~~~~~~
I've been wearing clothes on stage designed by Karen  Fleisch Since 2004 . I still wear them … They are made to last with great materials and workmanship. I recommend her for anyone who wants cool custom clothes !!!
~ Carmine Appice ~
Drummer extraordinaire
~~~~~~~~~~~~~~~~~~~~~
Karen did a phenomenal job on the wardrobe for multiple shoots. She has a great sense of the intent of a project and how the way characters are styled can help or hinder the final results. She came up with creative solutions to the challenges presented in projects and the final results looked amazing. Her work added a lot to the final product. 
~ Sean Mannion ~
Producer / Director / Writer
~~~~~~~~~~~~~~~~~~~~~
I have been lucky enough to work with Karen for over two decades. Her creativity, knowledge and excitement have breathed life into my films and stage productions, making them look like they have ten times the budget. She has dressed me like a Metropolitan Opera diva for my band performances, inspiring thousands of fans to dress in the same stunning fashion. The detail and quality of her work is world-class and her enthusiasm is infectious. I think every production needs Karen not only for her designs, but for her fire and spirit.
~ Lisa Hammer ~
Director / Producer / Writer / Musician
~~~~~~~~~~~~~~~~~~~~~
Your work, as per usual, has transformed Mine and helped everyone realize who they are. what they are. where they come from and where they are going.
Thank you for being my brilliant designer and for your powerful, dramatic designs. They have made all the difference.
~ David Pilot ~
Writer / Director / Producer
(Written to Karen for her work on The Han's Project )
High End Original Creations and Professional Styling
for
Stage / Screen / Events / Photography
~ eMail ~
info@KarenFleischDesigns.com


☆